Kristen Aldridge Is Live On Showit
Journalist and speaker Kristen Aldridge came to us with an AMAZING vision for her rebrand. She is a speaker, host, and founder with a passion for capturing compelling stories that ignite inspiration and create powerful change. We loved working off her bold personality and energy to bring to life a bold and editorial style in this Custom design. Kristen's online presence had to capture her fierce spirit, and we had so much fun rising to that challenge.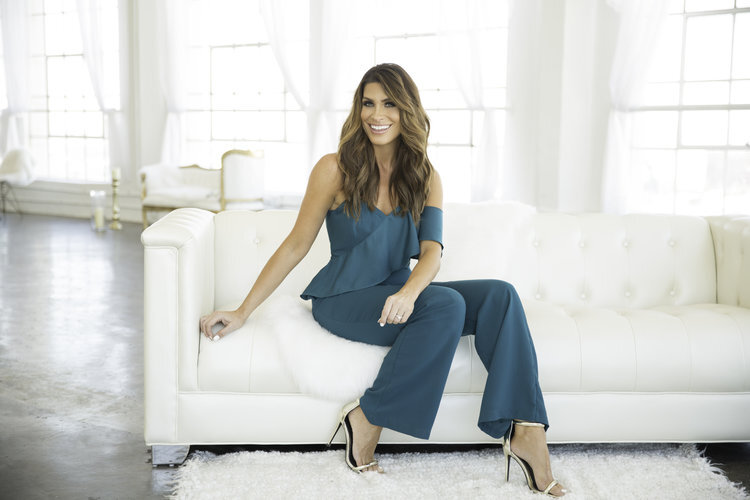 Check out our Q&A with Kristen about her Custom Site
Read about how Kristen is inspired by finding out what makes successful people tick, the hardest lessons she learned, and how perseverance is key to her success.
"You don't have to wait for someone to choose you. You can create whatever you dream of."
GO LIVE: WHERE DID YOUR PASSION FOR THE INDUSTRY OR CRAFT START?
KRISTEN: I saw "Entertainment Tonight" on TV when I was 12 and was instantly hooked. The dream job of a television host seemed like the perfect fit. Growing up, I made mock red carpets in my bedroom to practice pretend interviews with celebrities using my hairbrush as a microphone. (Embarrassing to admit, but so true!!). I just loved asking questions and getting the inside scoop. Next thing I knew I was packing up my red pick-up truck at 20 years old making the drive from Minnesota out to Hollywood to try to make a go of it. I'm still asking lots of questions, but thankfully the microphone is real this time!
GO LIVE: DID YOUR EDUCATION HELP PREPARE YOU FOR THE INDUSTRY OR FOR STARTING YOUR OWN BUSINESS? OR ARE YOU SELF-TAUGHT?
Self-taught all the way! I worked for free for many years when I was just starting out so I could be on set and learn from the pros in the industry I admired. To this day I'm constantly still studying successful people to figure out what makes them tick. What I find fascinating from anyone who has achieved remarkable things is their ability to persevere through the toughest of times and never give up. It really does take 10 years to be an "overnight" success. It's a lesson I try to remember throughout my own journey whenever I feel like throwing in the towel.
GO LIVE: WHAT'S THE HARDEST LESSON YOU'VE LEARNED IN YOUR BUSINESS?
KRISTEN: Rejection is tough. You're going to hear a gazillion no's before you might hear one yes. It can be really easy to let that affect your self-worth if you let it. Looking back, every no I got was so painful but I'm incredibly thankful for them because they brought immense growth. I still have to remind myself that when you don't get what you want, it's usually because something better for you is coming.
GO LIVE: WHAT DO YOU WISH SOMEONE WOULD HAVE TOLD YOU WHEN YOU STARTED OUT?
KRISTEN: You don't have to wait for someone to choose you. You can create whatever you dream of. You probably won't know what you're doing and it will definitely take time. Play the long game. Experiment endlessly and fail often. And know that the really tough, hard-to-hear crappy feedback is the actually the greatest gift you can get. It's the only way you get better.
GO LIVE: WHAT WAS THE MOMENT YOU HAD WHEN YOU SAID, "I SHOULD DO THIS" OR WHAT MADE YOU TAKE THE JUMP INTO WORKING FOR YOURSELF?
KRISTEN: My mom and dad are entrepreneurs. I've watched them build a successful business of their dreams and work together (still totally in love) for more than 35 years. I can't think of better role models to look up to as I try to build my own empire!
GO LIVE: WHY DID YOU ULTIMATELY DECIDE TO WORK WITH US FOR YOUR RESTYLE OR CUSTOM DESIGN?
KRISTEN: When I saw your stunning portfolio of designs AND discovered that I could get a kick-ass website in just 5 days flat, I was seriously instantly sold! You all have been amazing from start to finish. As busy entrepreneurs, it can be impossible to find the time it takes (hello, usually months!) to build a website of this caliber. I'm truly blown away by all things Go Live HQ. So grateful for you guys! Thank you!
See Kristen's Site Live On Showit
Follow Kristen and all the amazing work she is doing with Luminate and Project Luminary on her Instagram.
FEELING INSPIRED BY THIS REBRAND?